Record Breaker – Lewis Hamilton
by Ray Goldsbrough GMA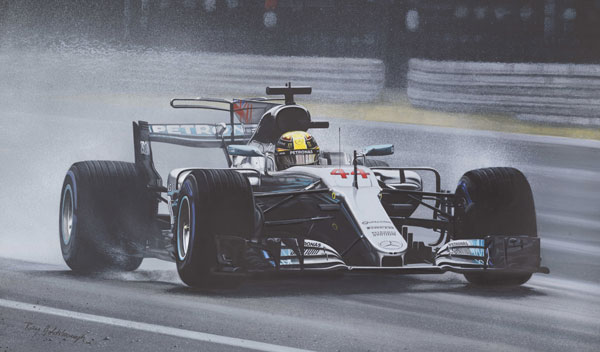 2017 Italian Grand Prix – Monza

This limited edition print by motorsport artist Ray Goldsbrough shows Mercedes driver Lewis Hamilton in action at the 2017 Italian Grand Prix.
This significant release captures Lewis Hamilton securing a historic 69th career pole position at the 2017 Italian Grand Prix surpassing Michael Schumacher's all time record.
The 2017 season saw Lewis Hamilton crowned Formula One World champion for a fourth time.

Edition Size: 144 Copies

Image Size: 63 cm x 37 cm Mounted Size: 83.5 cm x 61 cm

This release is supplied mounted ready for framing, the mounting style is an off white textured top mount with a black inner slip.
If you have arrived at this page through a 'backdoor' you will have nowhere to go.
Please click here to go to our HOME page
www.oliversart.com