A new book and print portfolio paying tribute to one of the Luftwaffe's great Aces - Helmut Wick

Shortly after his appointment as Geschwaderkommodore of JG2 'Richthofen', Major Helmut Wick describes the outcome of a recent duel to his fellow officers.
Hartmann, Barkhorn, Rall, Rudorffer - names that are amongst the greatest Aces in history - but had he lived, Wick might have surpassed them all.
At the time of his appointment as Kommodore of JG2 he was the youngest Major in the Luftwaffe and only the fourth recipient of the Knight's Cross with Oak Leaves. By 28 November 1940, with 56 victories, he was the highest-scoring Luftwaffe Ace ever when his luck finally ran out and he was shot down and killed over the Channel. His tally of victories may have been surpassed but his legend was never forgotten.
Crack Ace is the latest release in Robert Taylor's increasingly collectible series of Masterwork drawings, created with unrivalled skill using his striking graphite and paint combination.

Every print in this commemorative edition is signed by a prominent Luftwaffe Fighter Pilot:
Lieutnant HORST JAEKEL Bf109 pilot with 3./JG4

THE BOOK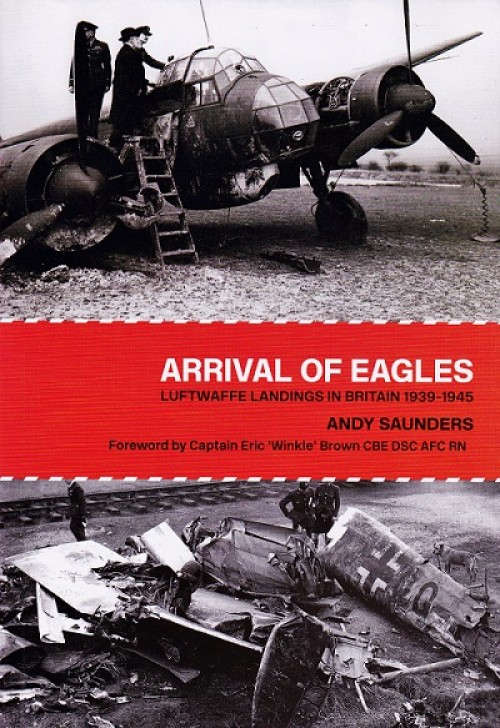 To complete the portfolio, each print is issued with a matching-numbered, hard-back copy of the book ARRIVAL OF EAGLES by distinguished author and historian Andy Saunders.
75 Limited Edition book and print portfolio
Overall print size: 18"wide x 28" high
THE MATTED COLLECTOR'S EDITION & ARTIST PROOFS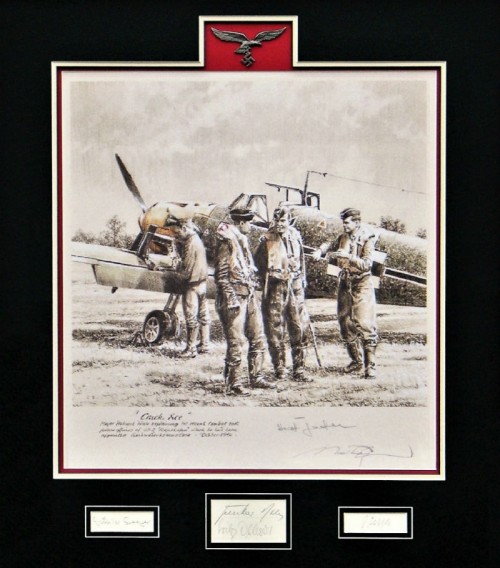 Each print is conservation matted to include the original signatures of four famous Luftwaffe Aces who flew Bf109s during WWII:

Hauptmann SIEGFRIED BETHKE
Iron Cross 1st Class / 14 victories
Oberleutnant GÜNTHER SEEGER Knight's Cross / 56 victories
Generalleutnant GÜNTHER RALL Knight's Cross with Oak Leaves & Swords / 275 victories
Generalleutnant FRIEDRICH OBLESER Knight's Cross / 120 victories
THE SIGNED BOOK PLATE
Each matching-numbered book contains a special collector's bookplate autographed by the legendary Luftwaffe Ace:
Generalleutnant ADOLF GALLAND Knight's Cross with Oak Leaves, Swords & Diamonds / 104 victories
Approx matted size: 22" x 24 ¼"
25 Collector's Edition
10 Artist Proofs
THE MATTED REMARQUES
Robert will hand-craft an original drawing in the lower margin of the print, giving collectors the opportunity to acquire a highly sought after original work by the world's most collected aviation artist. Each copy is individually matted with all the components of the Collector's Edition.
These highly collectible editions are extremely limited so contact us early to avoid disappointment.
15 Remarques
10 Dble Remarques

If you have arrived at this page through a 'backdoor' you will have nowhere to go.
Please click here to go to the ROBERT TAYLOR GALLERY
www.oliversart.com