Aircraft – Lancaster
"…night after night, month after month, our bomber squadrons travel far into Germany, find their targets, often under the heaviest fire, often with serious loss, with deliberate, careful discrimination, and inflict shattering blows upon the whole of the technical and war-making structure of the Nazi power. On no part of the Royal Air Force does the weight of the war fall more heavily than on the daylight bombers…" Winston Churchill

With these words the British Prime Minister reminded the House of Commons of the heroic role undertaken by the young men of RAF Bomber Command during World War II as they set out across the North Sea to wreak havoc upon the enemy. And the cost they bore – for the odds of a safe return were, at best, marginal.
One aircraft above all came to symbolise the valiant deeds that these young men undertook – the mighty Avro Lancaster. Introduced in early 1942, it quickly became the backbone of Bomber Command and it wasn't long before a score of airfields across the east of England reverberated to the sound of its four mighty Merlin engines.
Almost Home recreates a scene that was familiar to anyone in Bomber Command. A lone 9 Squadron Lancaster, separated from the main force during a punishing mission to Germany in late 1944, returns to safety. The weary crew are no doubt relieved to see familiar fields beneath them as they approach their base at RAF Bardney. 9 Squadron had received their Lancasters in September 1942 and became a leading unit within Bomber Command. Working on operations alongside 617 Squadron, they specialised in dropping Barnes Wallis's famous 12,000lb 'Tallboy' bombs, including the successful mission to sink the German battleship Tirpitz.
This previously unreleased work was commissioned by a crew member of the featured Lancaster in 1984, the decade that saw artist Robert Taylor shoot to international renown as the world's most widely collected aviation artist. A timeless and poignant classic, Almost Home has been selected from the Military Gallery Archives to commemorate the Centenary of the Royal Air Force. The world's oldest independent air force, the RAF was formed towards the end of WWI on 1 April 1918, when the Royal Flying Corps and the Royal Naval Air Service merged to create what was then the largest air force in the world. Since then the RAF has played a significant role in British military history.
THE SIGNATURES
Every print has been signed by highly respected aircrew who flew with Bomber Command during WWII, including two 9 Sqn veterans, creating a historic collector's edition to commemorate this important anniversary.

THE ANNIVERSARY EDITION with two signatures:
•W.O. HARRY IRONS DFC
•Flt Lt 'RUSTY' WAUGHMAN DFC AFC

THE COLLECTOR'S EDITION & ARTIST PROOFS with eight signatures
•W.O. HARRY IRONS DFC
•Flt Lt 'RUSTY' WAUGHMAN DFC AFC
•W.O. KEN JOHNSON Ld'H
•W.O. RUPERT NOYE DFC
•W.O. 'CHICK' CHANDLER Ld'H
•W.O. HAROLD KIRBY Ld'H
•W.O. REG PAYNE
•Fg Off VIC FARMER
100 Anniversary Edition
220 Collector's Edition
25 Artist Proofs
THE REMARQUES with eight signatures:
Each print will be further enhanced with a unique original pencil drawing individually created in the border by Robert Taylor.
A rare opportunity to acquire an exclusive original work by the world's foremost aviation artist.
15 Remarques
10 Double Remarques
THE BOMBER COMMAND TRIBUTE EDITION with original pencil drawing and seventeen signatures: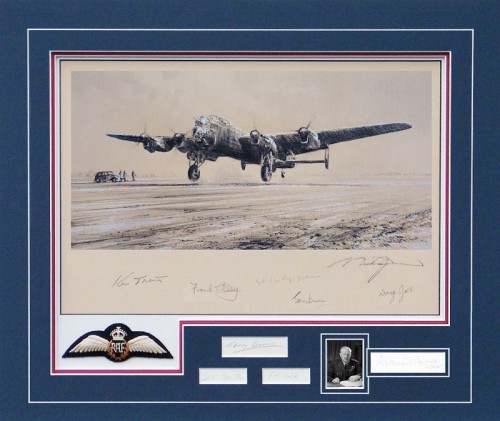 Released with the serious collector in mind, each print is issued with a unique original pencil drawing by Robert, created in graphite and paint, which is signed by five highly distinguished Bomber Command veterans:

•Flt Lt KEN TRENT DFC*
•Flt Lt GEORGE DUNN DFC
•W.O. FRANK TILLEY
•Sqn Ldr DOUG JOSS MBE
•Sqn Ldr GEORGE JOHNSON MBE DFM
Each drawing is conservation matted to include the original signatures of a further four WWII Bomber Command veterans, including their legendary Commander in Chief, 'Bomber' Harris
•MRAF Sir ARTHUR HARRIS BT GCB OBE DD
•Flt Lt ERNEST WEBB DFC
•Flt Lt ROBERT SOUTER
•Sqn Ldr 'TERRY' KEARNS DSO DFC DFM
10 Tribute Edition

The Remarque and Tribute editions are the perfect way to acquire Robert Taylor's original work.

In the centenary year of the RAF we anticipate this lasting tribute to be extremely popular so contact us for more information or to order your copies.

If you have arrived at this page through a 'backdoor' you will have nowhere to go.
Please click here to go to our HOME page
www.oliversart.com