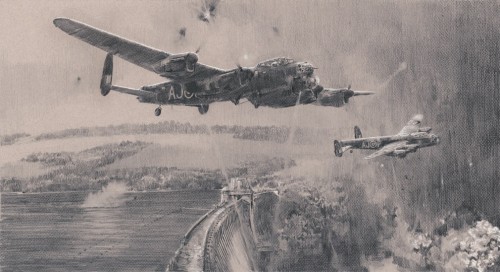 COMMEMORATING THE 75th ANNIVERSARY OF OPERATION CHASTISE

The aim was to destroy the great dams of western Germany. Many thought it mission impossible, but they underestimated the men of the newly-formed 617 Squadron – The Dambusters.
The story of RAF Bomber Command's audacious attack on the great dams of western Germany continues to inspire long after the events that took place on the night of 16 / 17 May 1943 – and with good reason. Few wartime missions have replicated the skill, courage and bravery demonstrated that night and the Dambusters have rightly gained legendary status.
Codenamed Operation Chastise, the mission was to be carried out by 617 Squadron, a newly-formed unit established for the sole purpose of destroying primarily the Möhne, Eder, and Sorpe dams in the Ruhr valley. The resulting flooding to the factories, roads, railways and canals of the Ruhr, and subsequent disruption of hydro-electric power, would be immense.
Commanded by Wing Commander Guy Gibson, the unit's task was unenviable, requiring supreme skills and undertaking enormous risks: they were to fly Lancasters, the largest bomber in the RAF's arsenal, at night, at tree-top height across heavily- defended enemy territory to deliver a revolutionary new weapon – a 'bouncing' bomb, codename Upkeep. Designed by the aeronautical genius Barnes Wallis, the bomb would skip across the water before detonating against the dam wall. To launch that weapon the pilot must hold his aircraft precisely 60ft above the water whilst maintaining a constant, fixed airspeed of 210 mph, and the targets would be defended by flak or almost impossible terrain.
Robert Taylor's dramatic work in graphite and paint – originally created as the working drawing for his acclaimed painting Three Good Bounces – depicts a moment during Flight Lieutenant Mick Martin's attack on the Möhne Dam. With two attacks already made Martin, flying AJ-P, releases his Upkeep while Gibson in Lancaster AJ-G flies off his starboard beam in an attempt to draw some of the enemy flak. It was unsuccessful; his radio operator tapping out 'Goner-5-8-A' (the code for - 'Special weapon released') 'exploded 50 yards from target' – 'no apparent breach' – 'target A'.
It would require two more attacks, from 'Dinghy' Young in AJ-A and David Maltby in AJ-J, before the weakened dam was finally breached, sending a tidal wave of water into the valley below. For Gibson it wasn't over; he will lead the remaining crews to successfully breach the next target, the Eder dam.
Robert Taylor's skill and artistry reflects his intimate and authentic knowledge of the events that took place on that epic, moonlit night in May 1943. Over the past four decades he has enjoyed the company of almost every man to survive Operation Chastise, has listened to their stories first-hand, and counted many of them as friends. The knowledge acquired, and the friendships gained have, without doubt, given Robert an unparalleled insight into the legendary Dambusters.
Printed and signed some years ago in preparation for the 75th anniversary by veterans who took part in this iconic mission have personally signed the prints in this poignant release.
325 Limited Edition
Overall print size: 26 ¾" wide x 17 ½ " high
THE SIGNATURES
Every print in this commemorative edition is signed by three veterans involved in this famous raid:
Sqn Ldr GEORGE 'JOHNNY' JOHNSON MBE DFM RAF
Cpl MAUREEN STEVENS WAAF
Dr MARY STOPES-ROE
THE MATTED COLLECTOR'S EDITION with 8 signatures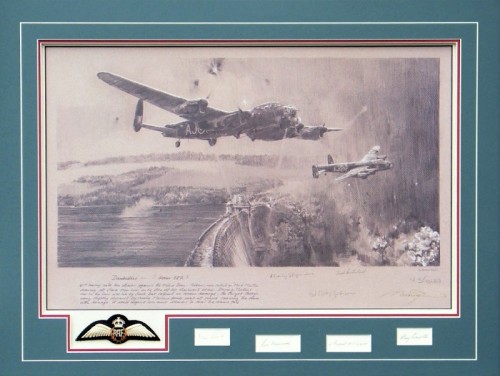 Each print is additionally signed by an iconic Dambuster and conservation matted to include the original autographs of four more:
Sgt FRED 'DOC' SUTHERLAND RCAF
Sgt RAY GRAYSTON RAF (matted)
Sqn Ldr LES MUNRO DSO DFC RNZAF (matted)
Flt Lt GRANT McDONALD RCAF (matted)
Cpl KEN LUCAS RAF (matted)
85 Collector's Edition
15 Artist Proofs
Overall matted size approx: 28 ¾" wide x 21 ¾" high
THE MATTED REMARQUES
sample of single remarque

For those collectors that want something extra, these two very exclusive editions will include an original pencil drawing by Robert Taylor hand-crafted to order in the lower margin of the print.
Each remarqued print is individually matted with all the signatures of the Collector's Edition.
15 Remarques
10 Double Remarques
Limited to just fifteen copies worldwide plus ten DOUBLE remarques – with a larger and even more elaborate drawing.
No two remarque drawings are alike, giving collectors the opportunity to acquire original work by the world's most collected aviation artist.
If you have arrived at this page through a 'backdoor' you will have nowhere to go.
Please click here to go to the ROBERT TAYLOR GALLERY
www.oliversart.com